Sentiers
Sentiers 4.0 is available
With many enhancements, more modern and more precise maps. Sentiers can now request the public transport timetables when the SBB application is installed.
Find your trail (in Switzerland)
How to reach the summit? How much time to walk to the mountain hut? What are the hikes in the area? Which is the shortest path?

Use Sentiers, the swiss hiking iPhone and iPad application, to compute itineraries and walking times. Thousands of localities, mountains, mountain passes, huts and other places, as well as roads and hiking paths are included. Itineraries can be discovered, shared, published. All of Switzerland is included. Detailed topographic maps show the terrain, level curves and steet names. Sentiers is also the companion to Point de Vue, the summit identification application.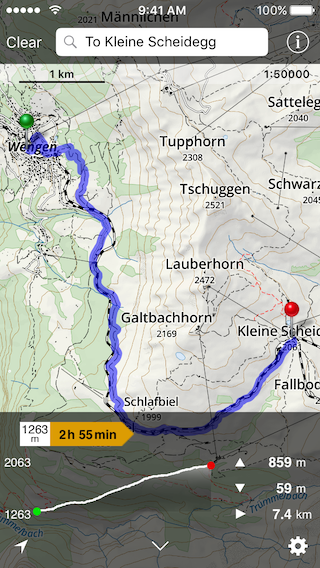 Features
Covers all of Switzerland
Topographic maps
Hiking paths and roads
Itineraries
Walking times
Profile, ascent and descent
Search localities, summits, huts and other places
Itinerary sharing
Bookmarks and history
Help
See our FAQ